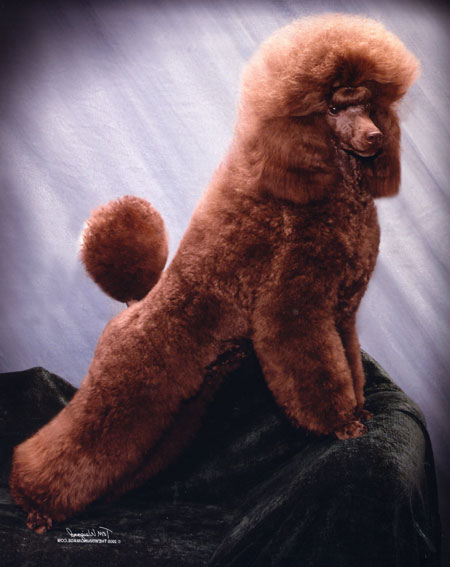 Amity has been breeding miniature poodles and showing in both conformation & obedience since 1969. Although we do occasionally have black or cream most of our babies are brown, cafe, blue, silver, and silver beige. Companion puppies are available on a spay/neuter contract with a Lifetime health and temperament guarantee. All parents are tested and must pass - most are Champions. All companion miniatures are available at 9 weeks of age after 2 shots, well baby exam, several fecal exams, and are micro-chipped. Each leaves us with their own crate. Our "kids" are home raised. Shipping is available.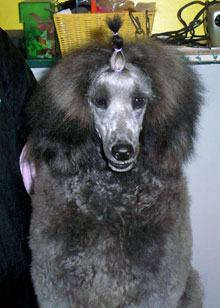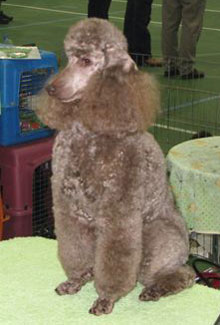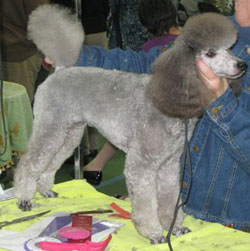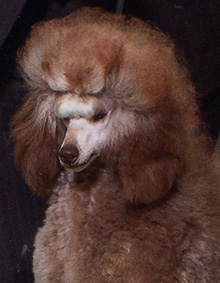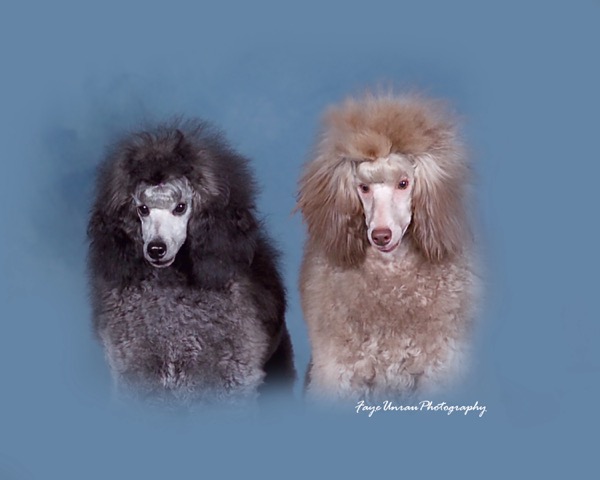 We proudly offer:

Blue male DOB 2-8-20, tail wagging sweetheart, sired by Joey, Dam is Peggy. Pictured below, left.

Silver & blue girls DOB 3-4-20, sired by Joey, dam is Laurie. Pictured below, right.

Please contact us for adult Champions looking for homes as several breeder friends have both toys and minis available.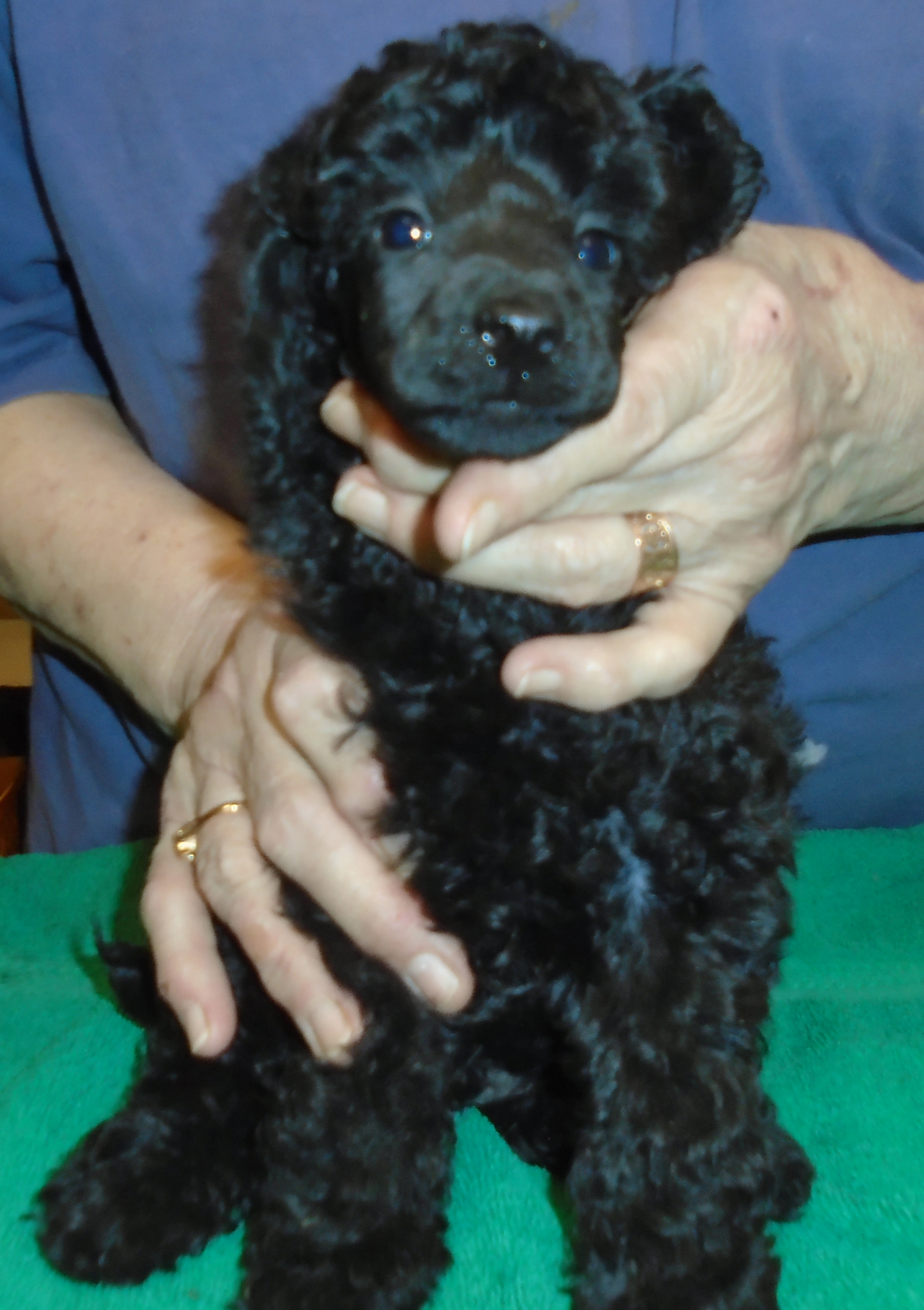 Blue male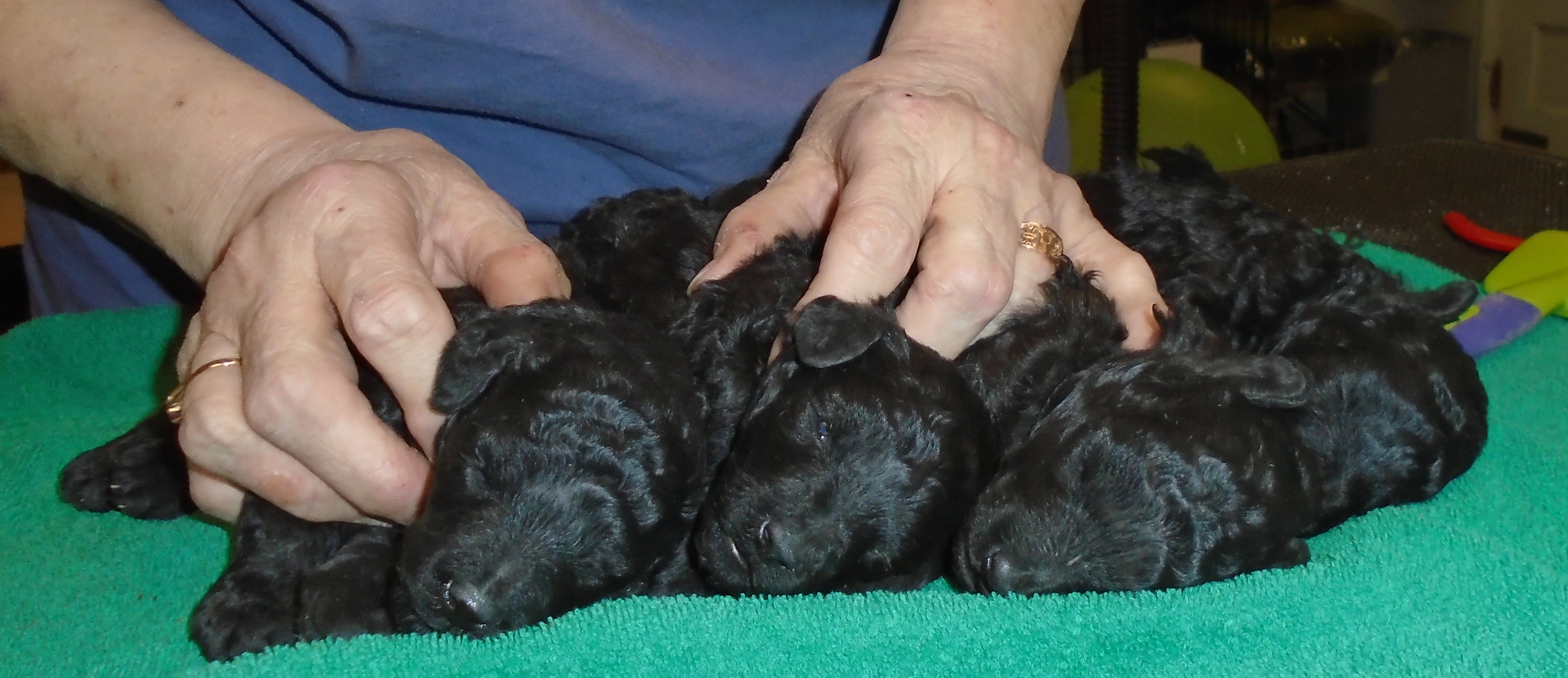 Silver & blue girls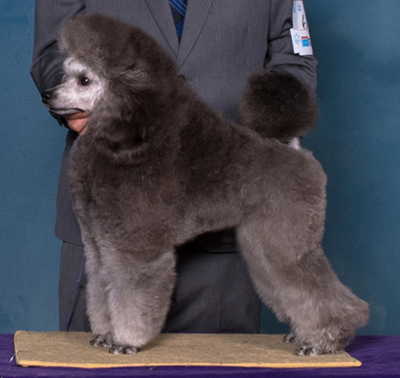 Joey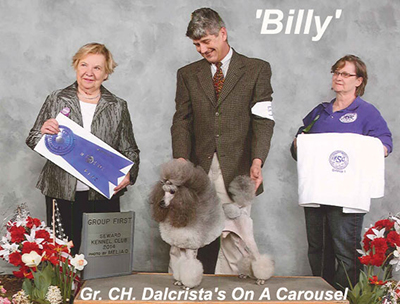 Billy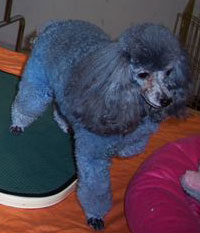 The Three True Varieties of Poodles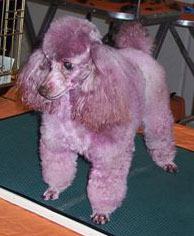 There are three varieties of Poodles: Toy, Miniature and Standard. Terms such as "Royal Standard." "Tea Cup Toy," or "Tiny Toy Poodle" are marketing gimmicks, used to promote the sale of animals that are dramatically over or under the norm in size.
At Amity, we breed Toy Poodles: the Toy is the smallest variety and should be no larger than 10" high at the shoulder. This size is particularly well-suited to apartment life or as a traveling companion for retired people.
Amity also breeds Miniature Poodles: the Miniature is a medium- sized animal standing between 10" and 15" high at the shoulder. This variety is a sturdy compromise between the Toy and the Standard, suitable for both apartment life or the hardy lifestyle of a family with children.
I have many friends that breed Standard Poodles: the Standard is the largest of the three varieties, with no upper height limit. Standards typically mature to a height of 21" to 27" at the shoulder, and females are usually a little smaller than males. being a larger, more substantial animal, the Standard usually needs more room for exercise than the other two varieties.
Show/Breeding Quality Puppy Versus Pet/Companion Quality Puppy
A show quality puppy is one which, in the breeder's opinion, should be able to become a champion. A pet quality puppy is less likely, in the breeder's estimation, to succeed in the show ring. However, making such a prediction at 8 1/2 weeks to 4 months of age involves a lot of breed knowledge and some guesswork.
A "pet/companion quality" puppy is one that has a disqualifying or major "fault" under AKC rules and/or the standard for the breed, such as being smaller or larger than the limits for its variety (Toy or Miniature). However, if a "pet/companion quality? Poodle puppy meets the standard of the breed for temperament, such a "fault" in no way affect's the puppy's ability to be a wonderful companion or its eligibility to enter AKC Companion Events, such as Agility or Obedience Trials.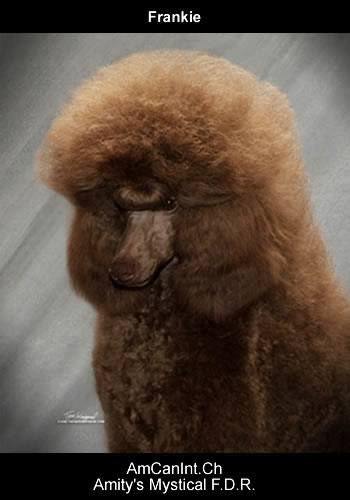 "Frankie"
My best effort.
Finished as a Junior puppy in both countries.
Completed International Championship with 3 Group First and Reserve Best In Show.
With a head beautiful enough to be carved in granite.
Frankie is now retired & sleeps on Mama's bed & loves retirement.
Frankie is proud to announce he is retired & is proud of his 21 Champions in brown, blue, cafe', black, silver & silver beige.
He is most proud of his first Champion Kaili going Best of Opposite Sex at Westminster Kennel Club Show 2010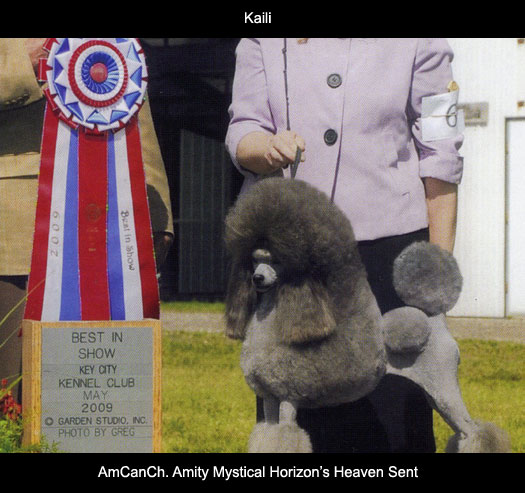 Frankie's first Champion is the #1 Miniature Poodle for 2009, has
Best in Shows in US & Canada
6 Specialty Bests in Show
Over 85 group placements & 18 Group 1's.
Kaili ends 2009 as #3 Miniature Poodle in Canada with only 1 weekend!
Kaili is handled by co-breeder and co-owner, Dawn Strumbel & Jennifer Dege. Way to go Dawn!!
Kaili is the First

Miniature in the History of the breed to be #1 in both Breed & All Breed
Kaili wins BOS at Westminster Kennel Club Dog Show 2010!
Kaili earned her Grand Championship title and is now retired!!
Inquiries about Kaili's upcoming litter to dstrumbel@hotmail.com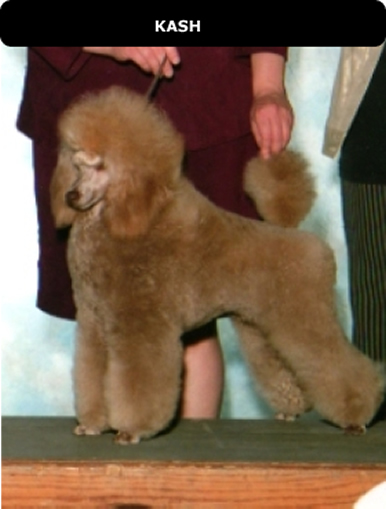 Frankie is proud of his second champion and first son, the silver beige 8 month old American Champion owned by Kim Pierotti.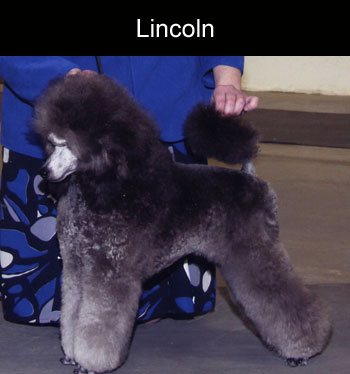 Lincoln,
repeat of Kaili
, completed his championship as a puppy. Ch. Amity's Gettysburg Address co-owned with Vicki Barker and retired to sleep on her bed. At stud once testing is completed.
Ellie & Ivy are littermates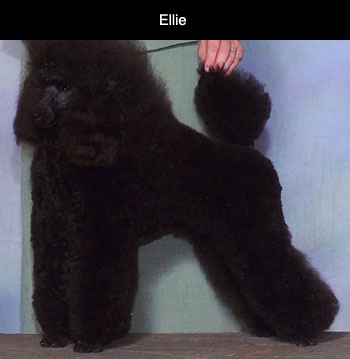 Ellie, Ch Amity's Elegant Treasures owned by Irina Shimbo & Mark Keating finished at 10 months with 3 majors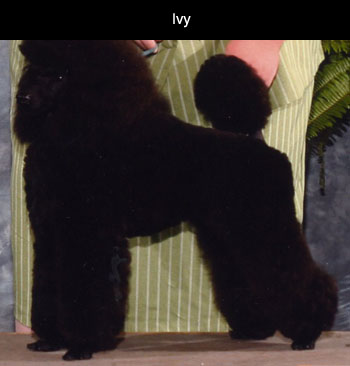 Ivy, Ch Amity's Dior Pure Poison co-owned with Danica Vanderwerff, flew to her championship as a senior puppy.
Jozelle & Justin are littermates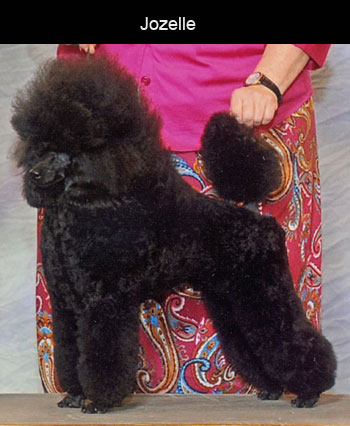 Jozelle, Ch Taysa's Hellz Bellz finished championship at 9 months of age, got a Puppy Group 1 at 6 months, and a Group 4 win on her last day out. Bred and owned by Teri Vinje.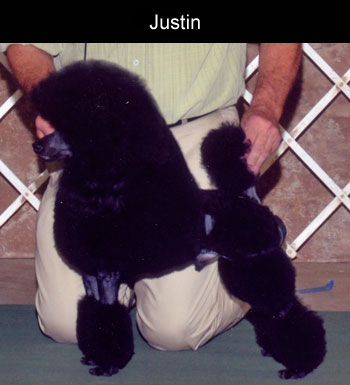 Justin, Ch Taysa's Just Push Play finished owner handled. Owned by David Waddell and Teri Vinje; bred by Teri Vinje.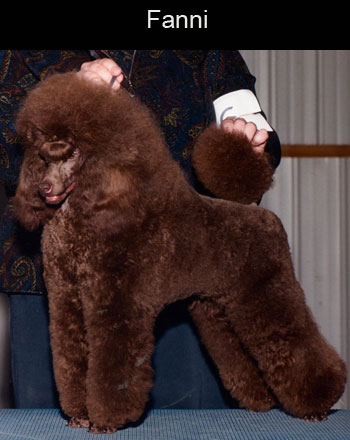 Fanni, AKA Franny, finishes her championship at 11 months. Owned by Marie Hedeman and co-owned by Danica Vanderwerff & Anne Seppo.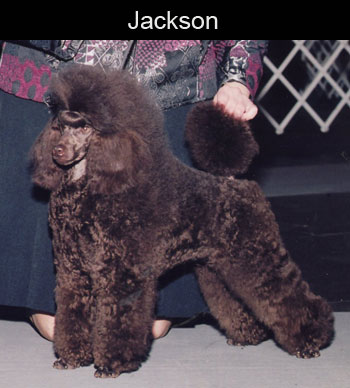 Jackson, AM. Can. Ch. Amity's Old Hickory finishes his American championship at 11 months of age. Nancy Berg, Jackson's owner, put final points for his Canadian championship. Congratulations to Mike & Nancy Berg!!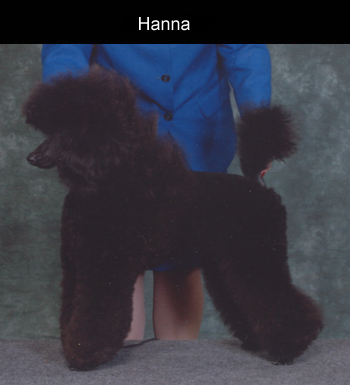 Eriand's Snowbound Hanna
Congratulations to Joanne & Mark Hauge on their first miniature poodle home bred Canadian Champion! Hanna was handled by Mark to BOB over a special under renowned Judge Ed Bivin. This was the first time in the US ring for both!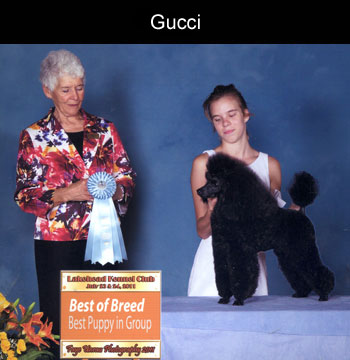 Gucci, Can. Ch. Amity's Envy Me At Snowedon, Owned by Amity, Joan Eastman & Anna V Urbaniak, 17 years old, pictured here finishing Gucci in her 4th Canadian show with a Puppy Group 1. Anna has pointed quite a few toy & miniatures for me in the USA & Canada. Thank you Anna for all your hard work!
Britney & Sabrina are littermates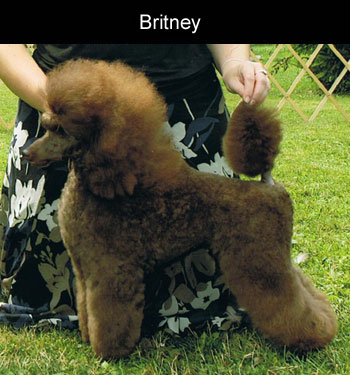 Britney, Can Ch Amity Mystical Hidden Fantasy O'Sanvar. Another Puppy Champion. Congratulations Anne Bell. Britney was expertly handled by Allison Cowey.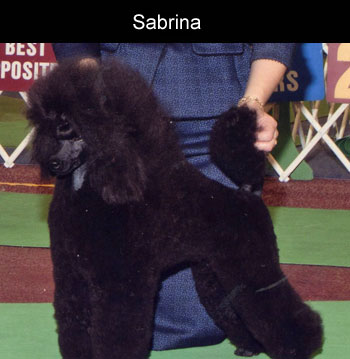 Sabrina, Am Ch Amity Mystical Secret Rendezvous, litter sister to Britney. Shown finishing her Grand Championship as a puppy. Sabrina is Frankie's second Grand Champion. Both girls were bred by Amity & Marie Hedeman of
mysticalpoodles.com
. Sabrina is owned by Marie Hedeman. Thank you Marie for having me finish the Canadian Championship on Can Ch Ash's-Mystical Mafia Destiny O'Amity, the super black, heavy coated dam of Britney, Sabrina, Trey, Vito & Rachael. I am so pleased that you shared Desi with me.
Charlotte & Jimmy are littermates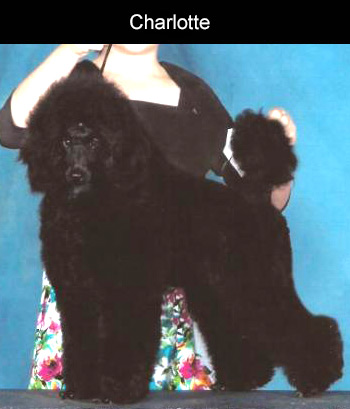 Charlotte, Ch. Refinne Amity Charlie Blue O'Adanac attained her Canadian championship in a weekend at 6 months of age. She was undefeated in the ring and also was awarded a Group 3 and two Group 4ths that weekend. Charlotte is owned by Michele Kerr of Adanac Poodles in Canada and will be the foundation to their rare breeding program in Ontario.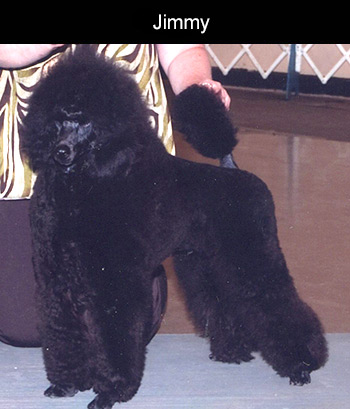 Jimmy, AmCanCH Refinne Nobel Peace Prize At Amity finishing in the Bred By Ex class or Open class as a 9 month old puppy. His sire's biggest son is a gorgeous Moyen/Klein, blue & simply gorgeous to watch move, Jimmy finished his Canadian Ch in 4 shows with a Group 2 & a Group 3 finishing under breeder Judge Elaine Whitney, later attaining his Am Ch. Jimmy is Charlotte's litter mate, also blue.
Bridgett & Rascal are littermates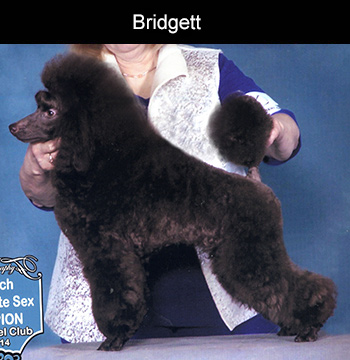 Bridgett, Can Ch Amity Mystical Maybe Baby, shown exclusively by co-breeder Anne Seppo finishing her Can title in 4 shows with a Puppy Group 1, now residing with co-breeder, Marie Hedeman Ash's-Mystical Poodles.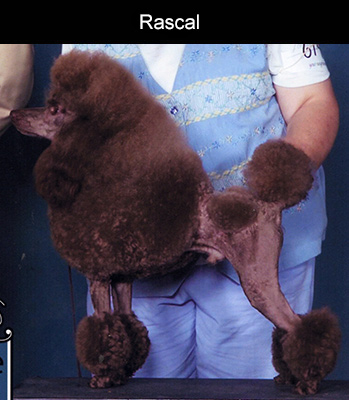 Rascal, Can Ch Amity's Mr. President, was shown exclusively by his co owner Susan Enebak. This was Sue's début in the confirmation ring. Watch for them in the performance rings proving once again a mini poodle can have beauty & brains. Good Luck Sue.
Teddy & Queenie are littermates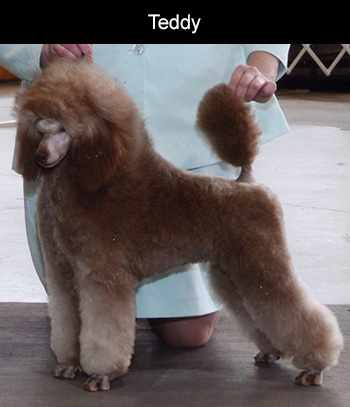 Introducing Theodore, Teddy, AMCAN Ch Amity's Rough Rider, Frankie 18th Champion finishing with 4 majors in a row, 4, 4, 5, 5 at 9 months of age. Teddy is a true silver beige with heavy hair & a sweet disposition. He has started his Canadian title by winning 2 points at his only Canadian show the day he turned 6 months. Watch for him to follow in his sire's footsteps. Teddy completed his Can Ch with a group 3 under breeder judge Elaine Whitney.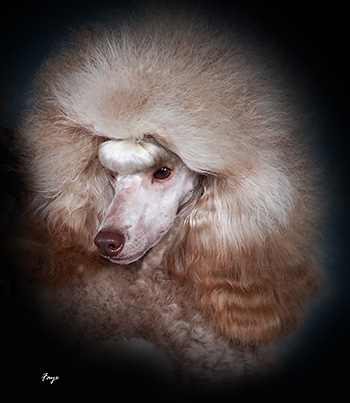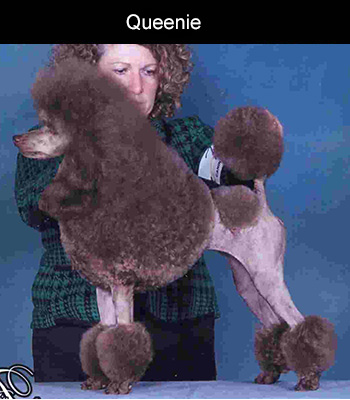 Congratulating Frankie's 19th champion, AmCanCh Amity's Killer Queen At Adanac owned by Michele Kerr of Mississauga, Ont. Queenie finished with 4 majors shown by Greg Larson & Yvonne Norton. Queenie was Best Puppy at The Heart of America Poodle Club.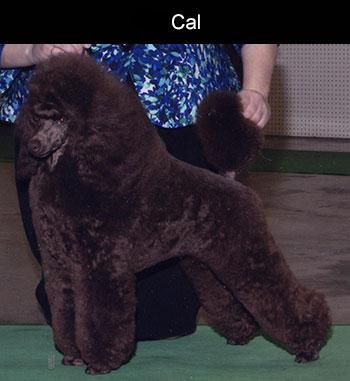 AmCanCh Amity's Silent Cal is the 20th Champion of his sire. Cal is an easy to live with sweet guy looking for the right owner. Undefeated in Canada in 4 shows with a Group 2 (see pic above).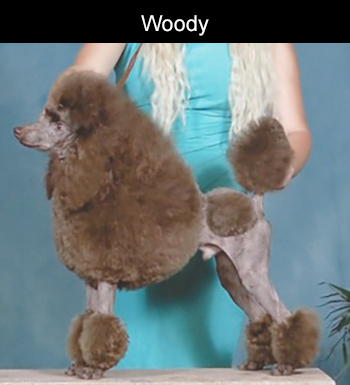 CanCh Amity's The Last President Standing has 8 US points & has moved to live with his 17 year old owner Brailyn Olar who loves the energy & personality of the minis. Watch for Woody & Brailyn in UKC.

In competition Woody was shown by a pro handler, 13 year old jr handler, owner handled, shown by an absolute stranger & showed nonstop for everyone. Conceived the day his sire was neutered, Woody is truly the last of the last.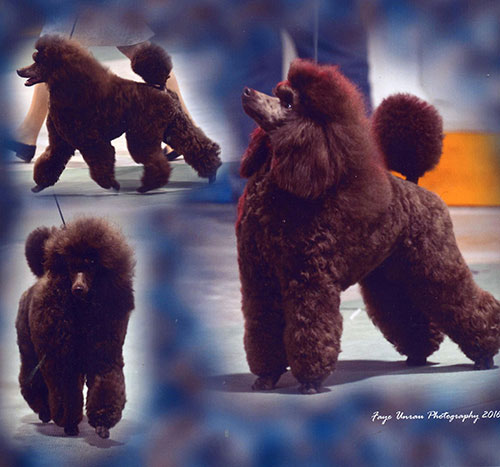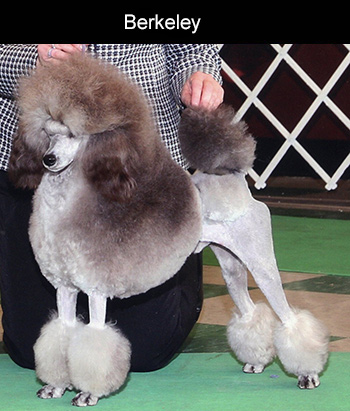 BERKELEY has retired.
Berkeley is a real go getter with a lot of drive & is our #1 pop bottle thief. His puppies are just starting in performance sports but most have his drive & will do well. He has the perfect poodle personality. When you want quiet time he lays forever with his legs crossed waiting for the next activity.
Currently at age 4 + years Berkeley has 10 champions with more possible in the wings.
Announcing the littermates Renly & Vivienne: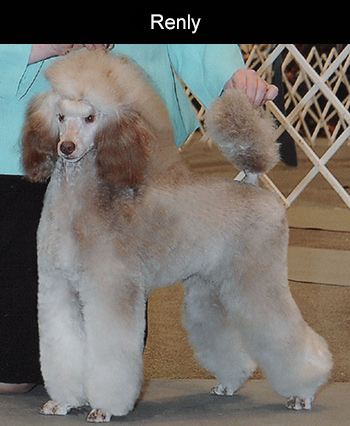 Renly, AM CH. Horizon's Trend Setter, finished his CH as an 11 month old puppy with multiple BOV over specials. He is out of BIS/BISS GCH Amity Mystical Horizon's Heaven Sent and is now in the obedience ring with his owner Melissa Miller. Bred By Dawn Strumbel, Horizon poodles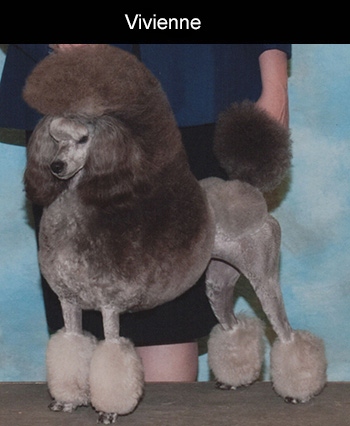 Vivienne, AM CH. Horizon's High Fashion, is a multiple BOV winner over specials. She is out of BIS/BISS GCH. Amity Mystical Horizon's Heaven Sent and resides with her breeder/owner Dawn Strumbel of Horizon Poodles.
info@horizonpoodles.com
Announcing the littermates Money & Apollo: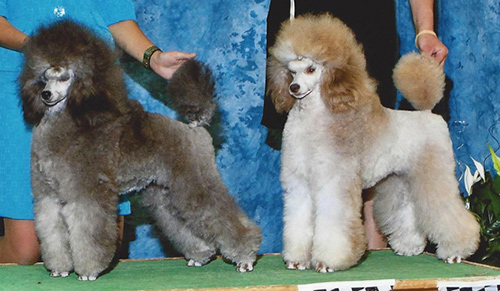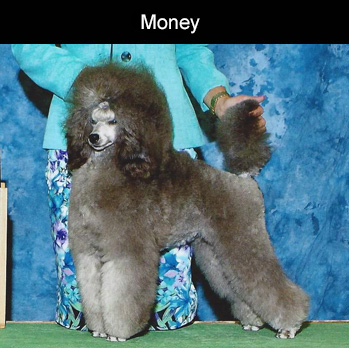 Money, Ch Ash's-Mystical Mafia Money Queen, & her brother Apollo finished at the same show weekend, shown by Sharon Sabvoda, winning her 1st major at the Poodle Club of Columbia as a jr puppy. Money is out of AmCanCh Ash's-Mystical Mama Mia Amity Queen & is bred & owned by Marie Hedeman, Ash's-Mystical Poodles, Nevada.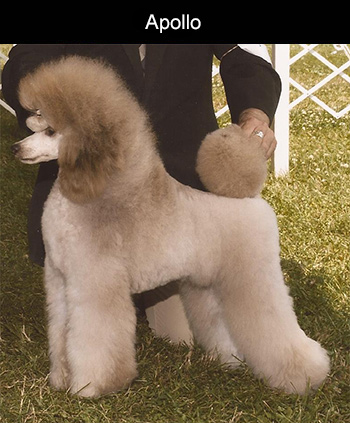 Ch Ash's-Mystical Over The Moon At Adanac piloted to his Am Ch by Will Alexander, has Grand Ch points & is currently being show in his new home country, Canada, where he will be a star for his owner Michele Kerr, Adanac Poodles, Ontario. Bred by Marie Hedeman & out of AmCanCh Ash's-Mystical Mama Mia Amity Queen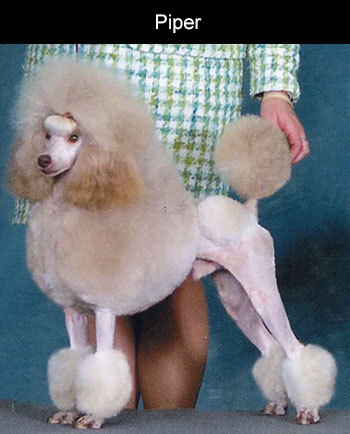 Piper, Can Ch Amity's Come Join the Band, Shown by Yvonne Norton to his Canadian championship, 3 major R's in US.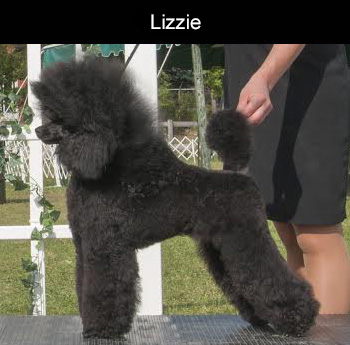 CanCh Adanac's Girls Like to Party finished her championship in 3 weekends with 2 group 4s over specials shown by Will Alexander & Yvonne Norton.
Rumer's pic will be here soon!
Rumer. AmCh Horizon's Zoelle Rumer Has It. Bred By Dawn Strumbel & Tim Glavon finishes with 3 majors & several BOV over specials.
dstrumbel@hotmail.com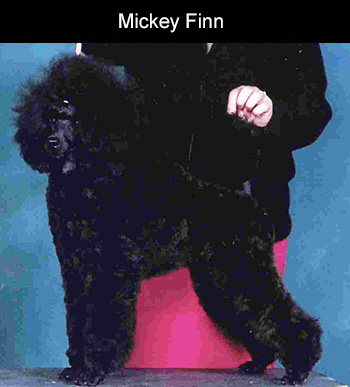 Anne Dege leased from me my CanCh Amity's Envy Me & look what she got out of Berkeley, a blue boy with a ton of personality & style. AmCan Ch Amity's Grand Finali At Degana finished in Canada in 2 weekends shown by Yvonne Norton & quickly finished his American Ch shown by Terri Meyers.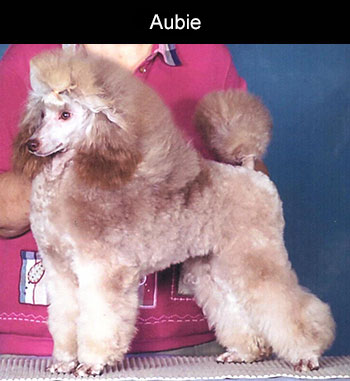 Can Ch Amity's Aubie the Tiger, shown by her co owner Sue Enebak to her title. Aubie is one of many champions for her dam Ch Amity's Dior Pure Poison. Sweet & silly she is a fun little girl. US Points & now retired.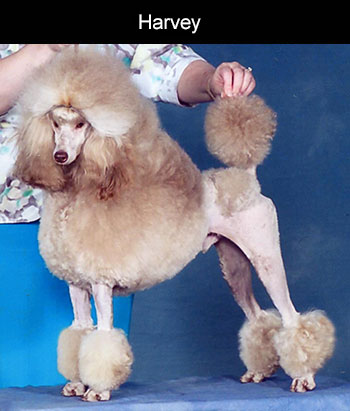 Can Ch Amity's Harvard Bound is for sale & quite a character. With a Canadian Group 3 as a puppy 'MR GoGo' is looking for home. Harvey is Berkeley's 10th Champion.
































Imported from Anne Bell, Sanvar Kennels, Reg Ontario, Canada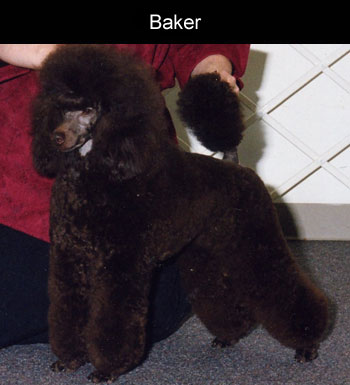 BAKER
Am. Can. Ch. Sanvar Baker's Chocolate Dimarnique, This sweet, easy moving dog that just floats but covers ground, with lots of neck & heavy coat was a good compliment for Frankie's daughters. baker finished with 3 majors in limited showing. Thank you Anne for letting him spend some quality time with us. Below are his champions so far.
Baker has gone back to Sanvar Kennels, anne@sanvar.com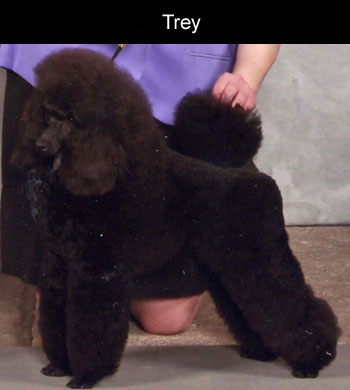 Trey, Baker's first champion Am Ch Amity's Mystical Triple Threat, finishing with 3 majors as a puppy & has nearly completed his Grand Championship. Trey has 2 puppies coming out in Spring 2012 with both of his 'kids' having his stunning head & huge hair. Trey resides in Fargo, ND. contact
acina_pudelz@yahoo.com
for more info.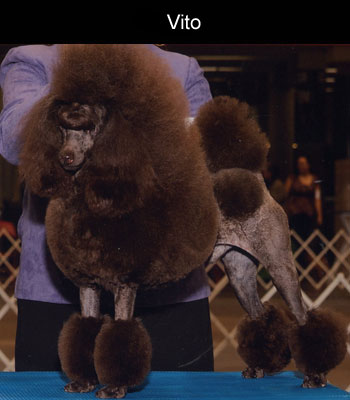 Introducing our new boy: Vito Corleone: Am. Can. Ch. Amity's Mystical The God Father. Both he and Trey are from Baker's first litter, bred by Amity & Marie Hedeman of
mysticalpoodles.com
. Pictured below is Vito winning the puppy group on the way to his Canadian Championship shown by 11 year old Faith Norton. Co-owned with Marie Hedeman
mystical@mysticalpoodles.com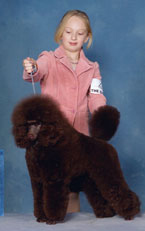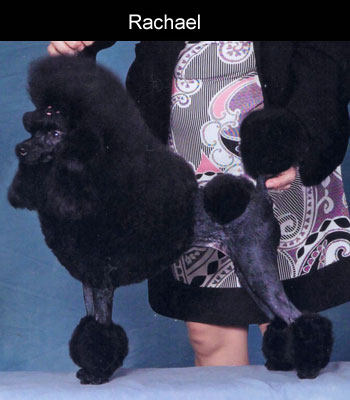 Rachael is the litter sister of Trey and Vito. She is halfway finished in Canada handled by co-owner Nancy Berg. They will be out for the Spring shows! Way Ta Go Nanc!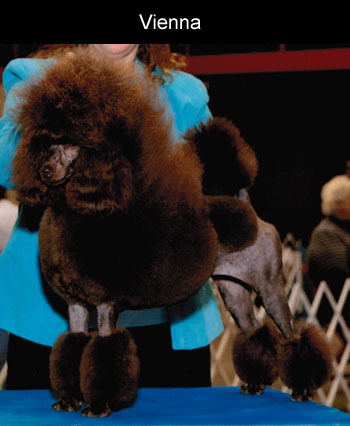 Vienna. Congratulations to Redstar Kennels on their first homebred Am Ch Redstar Vienna, Baker's first champion daughter out of Frankie's daughter Ellie pictured above. She is a doll!
Cassandra. IntCanCh Amity's Cassandra BY April Bay is a blend of Canadian breeding as her Dam is from Sigma Chi kennels, Elaine Whitney's breeding. Cassy was handled by her owner, Michael Melton to her Can & International titles. Good Job Mike!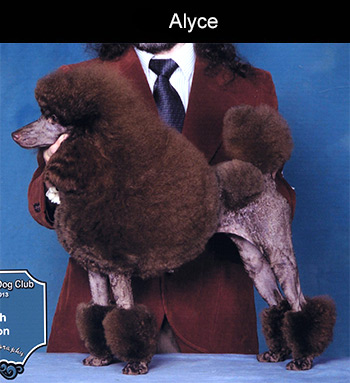 Alyce. CanCh. Acina's Curiouser And Curiouser At Amity. Alyce is the dog everybody's kids wants to play with & could be shown by most. Her dam is Fanni in Frankie's gallery &has the nicest disposition. She is Baker's last champ here at Amity.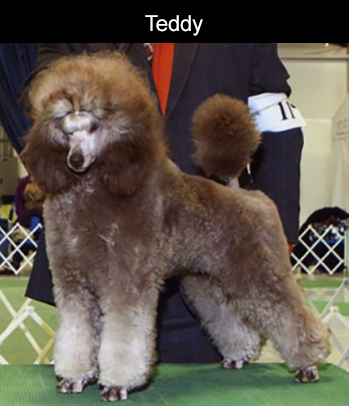 TEDDY
Am.Can.Ch. Amity's Rough Rider, Teddy or Theodore is 14 & 3/4" tall & very athletic. He is now a pale pretty silver beige with a slight orange cast. From his first litter he has 3 champions & from the next 2 litters he has pointed kids. Teddy is a super athlete that has a lot of drive & has produced several winners in Performance sports.
The Three littermates co bred by Anne Seppo & Marie Hedeman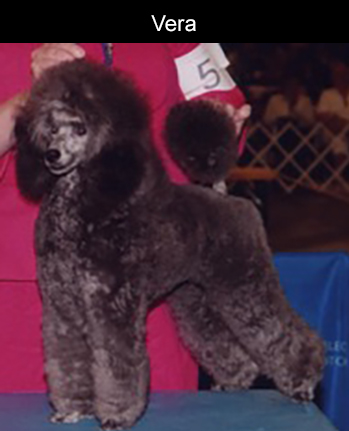 Am.Can.Ch. Amity's Vera Wang Love For Acina is co owned with Danica Vanderweorf & Teddy's first champion, finishing both titles as a puppy. Vera is a beautiful silver girl that is a joy for me to have around, always happy & quiet & mischievous.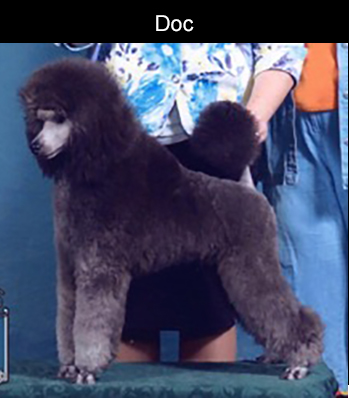 Can Ch Amity's Doc Holliday is Teddy's first champion son, a big platinum silver boy with Am points. Doc is like a big teddybear, easy going & acts like his grandfather Frankie.
Retired.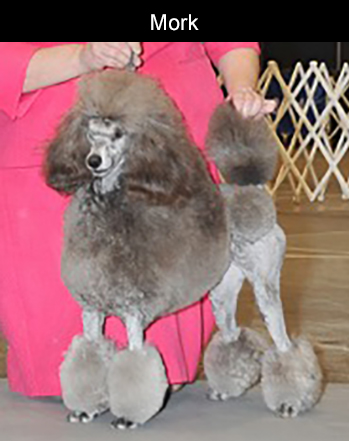 Ch Ash's Mystical Mork From Ork owned by Marie Headman & resides at Mystical poodles in Nevada with Marie: mystical@mysticalpoodles.com Mork is another sweet easy going boy.
Watch for more Teddy get...
































These are photos of Amity's sires of our puppies. The dams are also Champions and all have had genetic testing. Photos of dams & puppies can be emailed to you. Please send requests to amityvk@callta.com.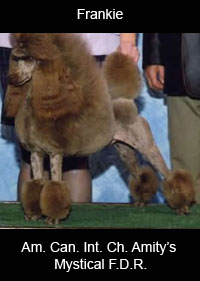 Brown Clown
But oh so mellow
So smart he taught himself
to fetch
Retired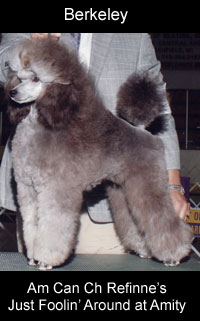 Nice hair & personality. Sweet & fun to have around.
Retired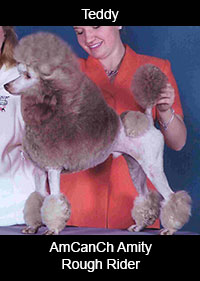 The Heir apparent.
Teddy's first litter of six has 3 champions, 2 pointed & the pick of his second litter has 8 points & we have a silver son about to start. Heavy coated with tons of drive & just a beautiful color & head piece.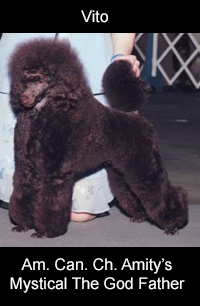 We are happy that Vito is back. In residence is his champion daughter that will be expecting babies this winter. Vito is a mellow sweet boy that is very muscular & full bodied.

Our toy and miniature poodle puppies are home raised out of Champion parents with all genetic testing done. Puppies shown by appointment only. Please phone for our booklet. 218.525.1289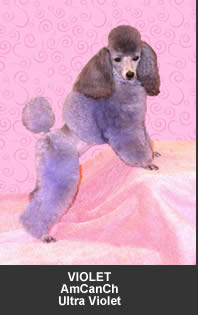 Amity's has toy and miniature poodle puppies of different colors.